BTCC SEES THE RETURN OF MILLTEK SPORT AND POWER MAXED RACING
AFTER AN INCREDIBLY SUCCESSFUL FOURTH SEASON IN THE BRITISH TOURING CAR CHAMPIONSHIP, POWER MAXED RACING ARE LIKELY TO ACHIEVE BIG THINGS IN THE UPCOMING SEASON AND MILLTEK SPORT ARE EXCITED TO BE RE-JOINING THE TEAM AS TECHNICAL PARTNERS FOR 2019.
"Milltek Sport played a vital role in what was our most successful season to date after they came on board as technical partners in 2018. We are delighted to have retained their sponsorship for the 2019 season and are already seeing an evolution in the partnership and the competitive advantage their exhaust systems are able to provide us with."
- Si McNally, PR & Marketing Manager of Power Maxed Racing
After working with Power Maxed Racing for the full season of 2018, this year brings a whole new round of developments as we face the challenge of improving upon last year's impressive standings. This year we are going above and beyond with the development of not only the Vauxhall Astra K exhaust systems, but also the paddock equipment utilised by the team's engineers and mechanics. Working with a leading team, we have no choice but to continue to improve on all levels to stay ahead of the competition.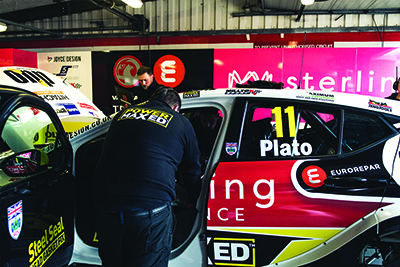 "Motorsport has long been an essential component of the Milltek Sport brand, one need only look to our existing BTCC and VLN commitments to see that. We're nevertheless excited by the prospect of working within the British Touring Car Championship particularly in partnership with a team as competitive and forward looking as Power Maxed Racing."
– Steve Pound, Managing Director of Milltek Sport
Millteks research & development team have delivered bespoke performance exhaust systems for the vehicles driven by Rob Collard and Jason Plato, and we are excited to see what these highly accomplished drivers are able to achieve with these in their Astra's. We have also provided exclusive Milltek Sport paddock equipment to PMR engineers, building on our partnership to cater the tools they need to fulfil their positions to the best of their abilities trackside.
"The engineers in our Research & Development division have been hard at work producing prototype exhausts for the Astra's of Jason Plato and Rob Collard, and we hope this relationship will continue to develop."
- Says Steve Pound.
Following on from the success of 2018, we are now in a position to expand our motorsport product knowledge and be able to continue to deliver premium products to both the British Touring Car Championship and the Performance Aftermarket Industry. The partnership allows us to develop performance exhaust systems that are truly tough enough to endure the incredible environments that the Touring Cars test them in.
"The BTCC is one of the most fiercely competitive championships and having Steve and his team as Technical Partners is exactly what we need to give us that extra competitive edge. We both see this as the growth of a long-term partnership, that will see both sides working closely together to develop not just exhaust systems for both road & track applications, but products from Milltek Innovations also."
- Says Si McNally