---
This past weekend the
Milltek Sport
team headed and exhibited at SOWO's event hosted in Savannah, GA,USA,
the European Experience 2019.
The event isn't just a car show.
It truly is an experience that introduced an eccentric atmosphere of car enthusiasts to Savannah. With all sorts of European vehicles, from modified Audi Wagons to Lamborghinis, there was something for everyone in attendance. Located on the "Pit Lane of Pain" at the Grand Prize of America Avenue Track, the event consisted of beach days, camping, competitions and plenty of modified cars to ogle over, including the Milltek Sport equipped RS3 and S4 that were brought to life on plenty of occasions over the weekend.

The event was a perfect opportunity for us to meet a portion of our states based customers; and being able to share their enthusiasm for our performance exhaust systems was nothing short of an honour. Albeit still recovering from the heat, the show is one that we are incredibly proud to have been a part of and are very much looking forward to ramping it up a level next year. We asked our attending staff what their highlights of the show were: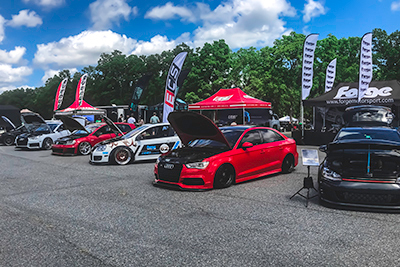 Brit Wagstaff, Senior Marketing Executive
-
"My highlight of the show was when an attendee told me his story of how he fell in love with his Milltek Exhaust and took me over to see his car in a competition along with the Milltek Sport stickers he had added to it for the show!!"
Steve Pound, Managing Director
-
"My most memorable experience from the show was seeing someone come to the stand with a massive smile on their face to tell us he had bought his MK4 R32 Golf with a Milltek Exhaust on it and asked if he could park it on our stand to show off the exhaust, which of course we were pleased to be able to do."
Tom Onslow-Cole, Brand Ambassador
-
"My highlight from the show was hearing how grateful people were for us making the journey out to the States to be able to speak to them in person and experience the event and all the excitement alongside them!"
We would like to thank all at SOWO Partners for organising the event and hosting the European Experience - See You Next Year!